We're pleased to announced that we have more than doubled the number of superintendents who have signed our Superintendents Call to Action this year! Superintendents who participate agree to take a leadership role in their communities, to act on data and mobilize their communities to reduce chronic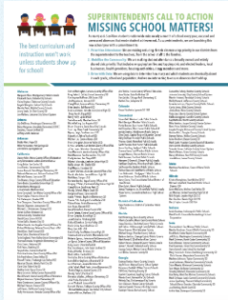 absenteeism.
This year's Call to Action was signed by superintendents who lead large urban districts, suburban districts, and small rural systems, from 41 states plus the Virgin Islands. The Call to Action builds on the momentum sweeping the country following the publication of the first national chronic absence data collection by the U.S. Department of Education. The data, based on the 2013-14 school year, shows that more than 6.5 million students missed almost a full month of school. Updated with corrected data from Florida shows that 6.8 million students were chronically absent.
"Addressing chronic absenteeism is much more than just a school or family issue," said Kern County Superintendent of Schools Christine Lizardi Frazier. "It is an issue that impacts every one regardless of whether or not you have kids in the public school system. Students miss school days for a number of reasons, mostly for reasons that are no fault of their own," including chronic illness such as asthma and allergies, she said. "Kern County also has a high rate of poverty, which inherently leads to other challenges like unreliable transportation or housing issues and frequent relocations."
"When students are chronically absent, meaning they have missed 10 percent or 18 days of school per year, they can fall behind academically and it is harder for them to keep up. These absences, whether they are excused or unexcused, can affect student performance," said Superintendent of Orange Unified School District Michael Christensen. "Our goal is to ensure that every student attends school regularly and on time."
The Superintendents Call to Action is sponsored by nine national organizations that led the 2016 Attendance Awareness Month campaign: America's Promise Alliance, Attendance Works, The Campaign for Grade-Level Reading, Everyone Graduates Center, Get Schooled, Healthy Schools Campaign, MENTOR, Points of Light and United Way Worldwide. Superintendents who join the Call to Action have access to tools, expert advice and other materials designed to make their effort a success.
On September 28, Education Week published a two-page ad listing the names of 455 superintendents from across the country. These superintendents and those who have signed on since are listed on our website. We're grateful to the superintendents who are participating and urge them to use this opportunity to continue to lead their communities in taking steps to reduce chronic absenteeism throughout the rest of the school year.
The Call to Action remains open for the rest of the school year! Any superintendent who is interested in joining can sign up on the Attendance Works website.