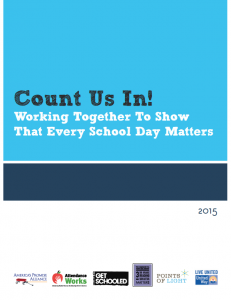 If you are recognizing September as Attendance Awareness Month, use our toolkit to start planning what activities you want to pursue. Browse our Toolkit Contents:
How to Use the Toolkit Links to icons for 10 stakeholder groups
Why Attendance and Chronic Absence? What research and best practice tell us
How Can We Deliver the Message? Outreach to parents and students, back-to-school events, media tools, social media
How Can Educators Improve Attendance? Ideas for teachers, principals, superintendents, school boards & state chiefs
How Can We Engage the Community? Community coalitions, stakeholder engagement and local toolkits
How Can We Identify & Help Students with Poor Attendance? School teams, mentoring resources, data-driven outreach, barriers to attendance
How Can We Measure Our Success? Data analysis and local metrics
What to Do When A calendar for schools and communities
Additional Resources Nonprofits and research institutes
View our other toolkits: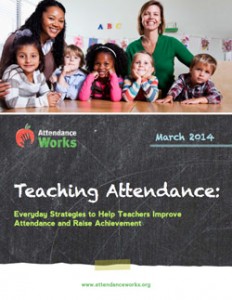 Teaching Attendance: Everyday Strategies to Help Teachers Improve Attendance and Raise Achievement
To help you build a culture of attendance and maintain it throughout the school year, Attendance Works has created this Teacher Toolkit. We hope you can draw from the resources we have developed to help drive up attendance in your classroom and throughout your school community.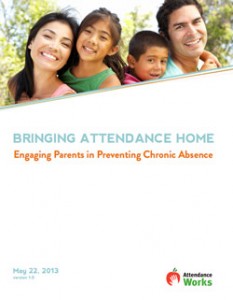 Bringing Attendance Home: Engaging Parents in Preventing Chronic Absence
Created with the help of practitioners who have worked successfully with families to improve attendance, this toolkit is filled with ideas, activities and materials that you can use to spark conversations with parents about how good attendance can help them fulfill their dreams and aspirations for their children's futures.
Leading Attendance: A Toolkit for Principals
The Leading Attendance toolkit provides templates, tools and messaging principals can use to improve attendance in their schools. It also features profiles of principals who are rallying their staffs to reduce chronic absence.
The Power of Positive Connections
This toolkit outlines key steps for implementing the PEOPLE strategy: Priority Early Outreach for Positive Linkages and Engagement. The PEOPLE strategy identifies the students and families most at risk and helps them build positive relationships that promote regular attendance.