We've collected stories, photos and videos about what schools and communities did for Attendance Awareness Month 2015. Submit your stories and photos to catherine@attendanceworks.org
Alabama
Mobile County Public Schools is working with local partners to reach out to parents and increase awareness about the importance of school attendance. They are also hosting an Attendance Challenge for all schools during the month of September to encourage students to come to school every day. Check out their Attendance Awareness Month poster here.
California
Contra Costa County students  are competing in a series of contests this month highlighting the theme, "Every School Day Counts: Attend today, achieve for a lifetime!" Elementary students can create posters; middle school students write essays, and high school students can produce public service announcements.
Fresno County Office of Education honored Kerman Unified School District as part of their improved and perfect attendance for Attendance Awareness Month. More than 30 students sat in front of Goldenrod Elementary School during a special celebration to cheer on their school district's high attendance rate. The 30 kids had perfect attendance last year, they also had no tardies or early dismissals. Fresno County Office of Education reports Kerman Unified had the highest attendance rate in the county this past year at 98.3%. School officials have also seen an improvement in its students' test scores, giving administrators even more proof that consistency in the classroom means more success overall.
Kern County has gone all out for Attendance Awareness Month. An August news conference  featured a panel of school administrators, law enforcement officials and local politicians urging the whole community to work together to improve school attendance. The county Board of Supervisors issued a proclamation. A website features resources for parents and public service announcements.

Connecticut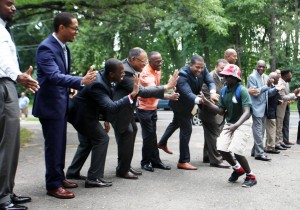 In Hartford,  100+ men in suits showed up outside Martin Luther King Junior Elementary School on the
first day of class to greet students as they arrived. This is the kind of welcome that make children excited about going to school.
Florida
The Suncoast Campaign for Grade-Level Reading is hosting an Attendance Awareness Poster Contest to promote good attendance habits and help students and parents understand why going to school every day matters. Children attending school in Manatee and Sarasota counties can participate by designing creative posters that illustrate the theme "Every Day Counts." Posters are due Sept. 30.

Georgia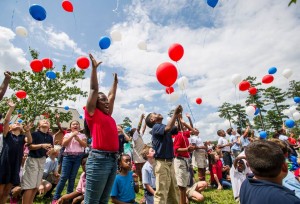 In Macon, a marching band played at Sonny Carter Elementary School
as children released balloons to celebrate good attendance so far this ye
ar. A social worker asked "Attend school when?" and the K-5 crowd responded: "Every day. All day. And be on time."
Illinois
Lake County: Since 1988, the Lake County Regional Office of Education has hosted an annual Attendance Week Competition for students across the county. The schools with the best attendance records this week, Sept. 14-18, will be recognized at a ceremony on Sept. 30.

Maine
In Lewiston, a new public service announcement uses children's voices to promote the importance of attendance in the early grades. "Attendance matters, I matter," the children proclaim. The PSA, developed by the local Campaign for Grade-Level Reading, will appear on TV stations, partner websites and school TVs.

Montana
Montana State Superintendent Denise Juneau hosted an event, wrote a commentary piece and appeared in this virtual video promoting good attendance:

New Mexico
A series of 30-second videos created in both English and Spanish by New Mexico PBS feature area students, air on TV and radio during the month of September – and other months when attendance tends to be high.

Mission: Graduate along with  NM PBS partners and Blackout Theatre created a set of six videos that illustrate what can go wrong in life and in school when someone doesn't show up. See these fun videos here.
Bernalillo High School students partnered with the school Attendance Team to increase awareness on the importance of attendance by marching in the Homecoming Parade. Students, the Attendance Team, Pueblo representatives and some local businesses participated in the parade. This video featuring Deshaun Masawiestewa, a senior at BHS who talks about why attending school every day is important to him.
Albuquerque Public Schools teams took a hands-on approach with attendance. Teams went door-to-door to discuss attendance with targeted parents, made welcome back to school phone on the topic of attendance to all to parents of students in transition grades such as first, eighth, and ninth, and called parents whose children missed school in the first few weeks of school.
Ohio
In Cleveland, students and teachers stopped for a moment and did a little dance at 10 a.m. on the first day of school. It was the #At10Dance. Even Schools CEO Eric Gordon did his part. It's part of his Get to School, You Can Make It! initiative.

West Virginia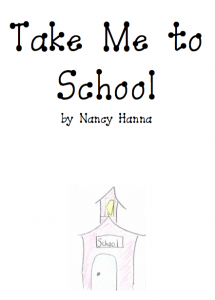 Working to improve grade-level reading, 52 schools and counties across West Virginia pinned on the Attendance Action Map: 26 crunched their attendance data, 15 launched contests, 11 posted PSAs or radio ads and 10 issued proclamations. Greenbrier County created Take Me to School, a children's book they shared with students and families across the county