Highlights from Attendance Awareness Month 2014
Read about community participation, media coverage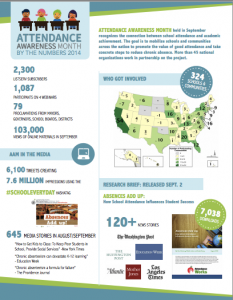 and other successes in our 2014 summary.
Solano County Office of Education, CA:  Student Poster Contest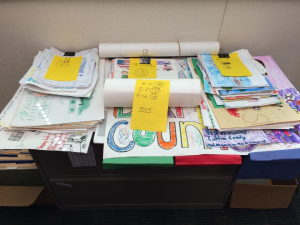 During September, the Solano County Office of Education sponsored a countywide poster contest. This was a peer to peer contest among students as a part of the overall effort to improve school attendance in Solano County. Students were given the chance to create a poster with messages focused on the importance of regular school attendance and win prizes.  SCOE received 305 entries!  Read more here.
Marshalltown, IA:  Spread the Words:  Read by Third!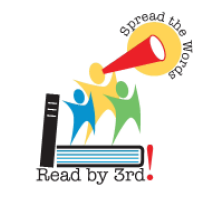 Spread the Words: Read by 3rd! is marking Attendance Awareness Month with several activities and outreach programs to make sure Marshalltown students are in class and learning every day. This includes a float entry in the Oktemberfest parade, as well as presentations to the city council and school board. There are also plans for PSAs, flyers for businesses, and participation in parent nights at elementary schools.  Check out their bilingual poster and flyer. For more information, click here.
Hartford, CT:  Attendance Matters initiative
Check out Hartford Public Schools' Attendance Matters initiative, and their Student Emmy Award-winning video, "If you're not in the seat, you can't compete!"
Fall River, MA:  Fill The Empty Red Chair!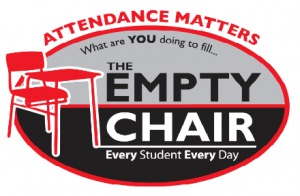 A new campaign has kicked off in city schools. It's not too subtle. Brightly painted red chairs and desks are set up near each building's main entrance, and on each chair are a large sign and a logo bearing the simple question, "What are you doing to fill the empty chair?"
With September declared as National Attendance Awareness month, the Fill the Empty Chair campaign is part of a larger citywide effort to boost student attendance in Fall River schools. So the chairs are now at each of the city's schools and in other city buildings, including Government Center. A few area businesses and organizations have also agreed to display them.
Read the full story here, and visit the Fall River Schools website.
Baltimore, MD:  AARP Experience Corps Helps Reduce Absences
In Baltimore, roughly half (46 percent) of chronically absent elementary and middle-school children were below grade-level reading in their yearly Maryland achievement tests, per Baltimore City Public Schools. These gaps lead to lower grades in future school years and higher dropout rates in high school. Getting students to school for the whole day, every day, can help close these gaps.
In an effort to get students to school with more frequency, AARP Experience Corps Baltimore, with the help of Harry and Jeanette Weinberg Foundation and Open Society Institute, has engaged in a more concentrated effort to get students to school.
Roberta Maxwell is an AARP Experience Corps, Baltimore City Team Leader and part of the school's attendance team at City Springs Elementary-Middle School, where there are several initiatives to keep kids coming every day.
Read the full story here.
State of New York:  Every Student Present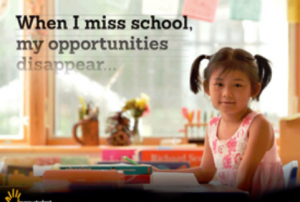 Every Student Present is a public awareness campaign designed to help school staff, parents and communities understand the impact of chronic absence—missing 10 percent of school.  The goals of the campaign are to promote awareness of chronic absence and to build capacity among schools, families and communities to reduce it.  For more information, visit the Every Student Present website.
Waterloo, IA:  Attendance Awareness video
Students need to be in school to learn. See why attendance matters here!
Washington, DC:  Wrap-around services increase attendance

A program that connects parents of truant students with wrap-around services has seen 79 percent of participants improve attendance in one year.
Truancy is one of the biggest issues facing D.C. public and charter schools, with 20 percent of students ending the 2012-2013 year with more than ten unexcused absences. "It's been underappreciated for too long," Council Chairman Phil Mendelson said at an event today, adding that Show Up, Stand Out gives positive attention to the issue.
In its first year, the program connected students from 17 elementary schools in Wards 1, 2,
4, 5, 6 and 7 with a community-based organization. Of the 457 families analyzed, out of 571 who participated, 98 percent were led by single parents, 78 percent by women and 88 percent by African Americans. Families were identified by schools after five unexcused absences and referred to the program.
Of the students who received comprehensive services, 79 percent improved attendance and 76 percent were not referred to the program for a second year. Seventy-seven percent of families also reported an improvement in living conditions, while 60 percent reported improved financial conditions.
Read the full story here.
Logan, WV:  Logan County supports student attendance awareness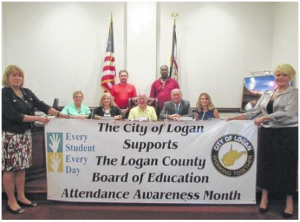 Governor Earl Ray Romblin declared September Student Attendance Awareness Month at a ceremony held during the City of Logan's council meeting Tues., September 9. In three ceremonies that were held across the county Sept. 8-9, different towns and businesses showed their support for this initiative.
Director of Attendance of Logan County Schools, Cathy Adkins, announced an Attendance Campaign during the month of September. To show their partnership with efforts to keep children in school, Logan Regional Medical Center, hosted an Attendance Banner Recognition, and Logan County Schools joined in the effort to promote positive attendance habits in Logan County. Logan Regional employees, including Logan County Board Member Debbie Mendez, helped to organize the event.
Read the full story here.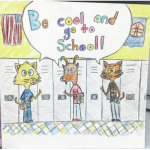 Logan County students were also given the opportunity to join the attendance campaign through an art contest. This winning poster will be displayed on a billboard in the area.  Read more here.
Stockton, CA:  30 Days of Literacy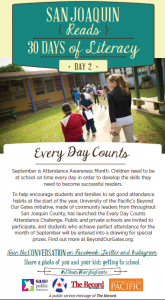 Stockton and San Joaquin County, which have struggled with literacy-related issues, are focusing on literacy during the month of September.
The area local paper, The Record, is doing a month-long series of ads for "30 Days of Literacy", highlighting different literacy-based groups, projects, individuals or collective efforts that currently are ongoing in the county.
There will be information on adult literacy, little free libraries, Book Buddies, Reach Out and Read San Joaquin, the School Attendance — Every Day Counts program, used book stores and local museums, to name a few.
Read more here.
Sacramento, CA: Schools Change the Conversation of Chronic Absence
This piece was originally published as a Bright Spot on the Campaign for Grade-Level Reading website.
Despite financial constraints, leadership changes and competing priorities, a California school district successfully launched a chronic absence effort that aims to shift the conversation and the school system. Talk is switching from average daily attendance, which can paint an incomplete picture, to chronic absence: students missing 10 percent or more of school days for any reason. And the system is testing new strategies to reduce chronic absence, after gathering data to better understand and illustrate the issue.
"It takes time to bring people on board, to help them understand the new language around attendance and to increase awareness and capacity to do the work," says Barbara Kronick, student support and health services director for Sacramento City United School District, a local grade-level reading coalition member.
Kronick was among a small group formed in 2011 to address chronic absence, with a grant from The California Endowment, a foundation collaborating with Attendance Works, a national initiative addressing chronic absence and a GLR Campaign Partner. The group included school district staff and local partners — the nonprofit Community Link and the University of California, Davis Center for Regional Change.
Read more here.
Oakland, CA:  Attend Today, Achieve Tomorrow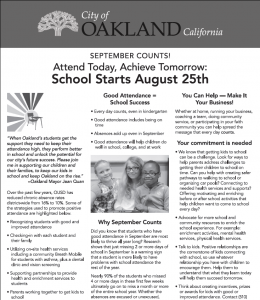 Just before school started, Mayor Jean Quan, the Oakland Education Cabinet, and the Oakland Attendance Cabinet sponsored a full page advertorial in the Oakland Tribune to spotlight the importance of regular school attendance. Download the full page here.
Kent County, MI: Drills Down to Reduce Chronic Absence
This post was first published as a Bright Spot on the Campaign for Grade-Level Reading website.
When young children repeatedly miss school, this can be a sign of problems at home: Mom has lost her job. Dad has been deported. The family is living in a shelter. A parent is ill.
To address this, Michigan's Kent County uses Kent School Services Network (KSSN), a community school initiative that places providers such as community school coordinators and behavioral health clinicians in the county's highest-poverty schools to help students and their families succeed.
Each week, at 28 KSSN schools in seven districts — including 16 elementary or K-8 schools — providers hold attendance meetings with school staff to identify and help students with attendance issues.
"They drill down to see what else is going on, what barriers and problems exist, and how to help a family make sure that their child goes to school," says Carol Paine-McGovern, executive director of KSSN, a member of Kent County's grade-level reading coalition.
Read more about Kent County on the Attendance Works blog.
Waterford, MI:  Ensuring Student Success
Nationwide, an estimated 7.5 million students miss nearly a month of school each year. When students miss 10 percent or more, they are considered chronically absent. To help school and community leaders improve student attendance and achievement, Oakland Schools in Michigan will host a daylong conference on September 11, 2014 about the impact of chronic absences and ways to strengthen families.
Sponsored by the Oakland County Truancy Task Force with Learning Services and Early Childhood, the program will be held from 8:30 a.m. to 3:45 p.m. at Oakland Schools (2111 Pontiac Lake Road in Waterford).
Speakers will include Hedy Chang, director and founder of Attendance Works, a national initiative aimed at improving student achievement, and Pat Stanislaski, director of the consulting firm Partnering for Prevention, who has 28 years of experience as a child advocate.
In addition, there will be speaker panels on community resources and truancy protocol, with experts from agencies such as the Michigan Department of Human Services, Oakland County Prosecutor's Office and Oakland Schools, among others.
Pre-registration is $35 for the day with lunch included. Walk-in registration is $50. For more information or to register, go to www.osregistration.org or contact Connie Birkle at (248) 209-2142 or by e-mail at connie.birkle@oakland.k12.mi.us.  To download the conference agenda, click here.
Springdale, AR:  Every Day Counts
In Springdale, Arkansas, OneCommunity Reads, UnaComunidad Leyendo!  introduced the Every Day Counts chant, complete with an electronic beat!
Read more about OneCommunity Reads, which is part of the Arkansas Campaign for Grade-Level Reading.
Vernon, CT: Driving With Data
Students form habits – including good school attendance – at an early age. So it was particularly disconcerting for the central Connecticut town of Vernon to discover that 16 percent of its kindergartners were chronically absent.
"The real killer was kindergarten attendance," says Dr. Mary Conway, superintendent of the Vernon Public Schools, which began monitoring chronic absence through its involvement with the Campaign for Grade-Level Reading. "Parents just didn't see it as an important thing in their child's life. But we knew it had an incredible effect on learning."
Read more here.
New Britain, CT: Starting Early
More elementary-school students are consistently showing up for classes in New Britain, Connecticut, thanks to the public school district's concerted effort to identify students who are chronically absent – or soon to be.
"You've got to nip it in the bud," says Joseph Vaverchak, the longtime public schools attendance director in New Britain, one of Connecticut's poorest districts with about 10,500 students.
Read more here.
Click here to read community highlights during Attendance Awareness Month 2013.