We've collected your stories, photos and videos about what schools and communities did for Attendance Awareness Month 2018. Submit your stories and photos through Share Your Story! Your activity may be featured here, in an AAC newsletter, on our Twitter (@attendanceworks) or AAC Facebook pages.
California
Brookside Elementary in Willits, California is bringing the community's attention to attendance through a monthly contest. Students with perfect attendance can win a gift certificate from a local business or restaurant, their name is listed in the school newspaper, and an article with a picture of the student is placed in the town paper. Brookside Principal Kathleen Crossman says that the publicity from the contest is great advertising for both Willits's businesses and the school's attendance campaign.
---
Colorado

The Colorado Department of Education is generating awareness of chronic absence issues through social media. The Office of Dropout Prevention and Student Re-engagement has created website pages to share information and interviews about attendance in order to support Colorado school districts and their communities to tell their attendance stories. The webpages includes links to a variety of state data and resources and Attendance Works' resources.
---
Florida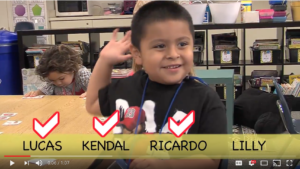 The Patterson Foundation has launched the 4th annual Attendance Awareness Poster Contest for the Suncoast Campaign for Grade-Level Reading in Florida. The contest recently expanded to a four-county region, and the Foundation expects tens of thousands of students to participate! This year's contest includes the use of the tagline, "Strive for less than 5 Days Absent" and a new music video. The campaign also has created a new attendance jingle and is encouraging participating elementary schools to have fun with the jingle by adaptation, including a change in style for the jingle, additional lyrics, or any kind of performance of the jingle!
---
Georgia
William James Middle School in Statesboro, Georgia is taking Attendance Awareness Month to new heights with a schoolwide attendance challenge. After 30 days of encouragement to come to school, the grade with the highest percentage of attendance during the month of September will win an award.
---
Illinois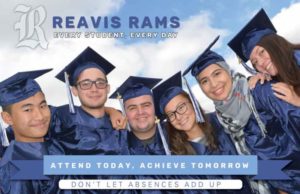 Reavis High School in Burbank, Illinois is engaging their community to promote their "Every Student, Every Day!" attendance campaign. Local businesses and medical agencies throughout Burbank are prominently displaying posters encouraging students to stay in school. The school has individual and grade level attendance rewards for students with incentives such as an end-of-year celebration.
Oak Lawn Community High School in Illinois is making attendance the focus of discussion for the current advisory period. As part of this effort, educators are going live with an attendance messaging campaign. During Attendance Awareness Month, students in Oak Lawn will learn more about the issue of chronic absence when messaging from Attendance Works fliers are broadcast on monitors throughout the school.
---
Maine
Elm Street School of Mechanic Falls, Maine, is gearing up for their "Super Attendance Spirit Week," to promote attendance during September. Classes with excellent attendance get to place their photo on the "Attendance Shout Out Board."
---
New Mexico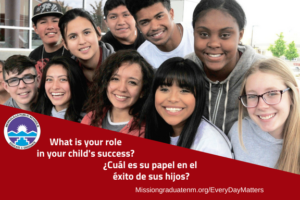 In N.M., Mission: Graduate is collaborating with the Bernalillo High School attendance team and district administration on an attendance postcard. The "What's Your Role?" campaign, made up of postcards, magnets and posters featuring BHS students, is based on the information found on the Attendance Works website. The campaign asks parents, students and community members what they think their role is in student success. The postcard pictured will go out to families in September.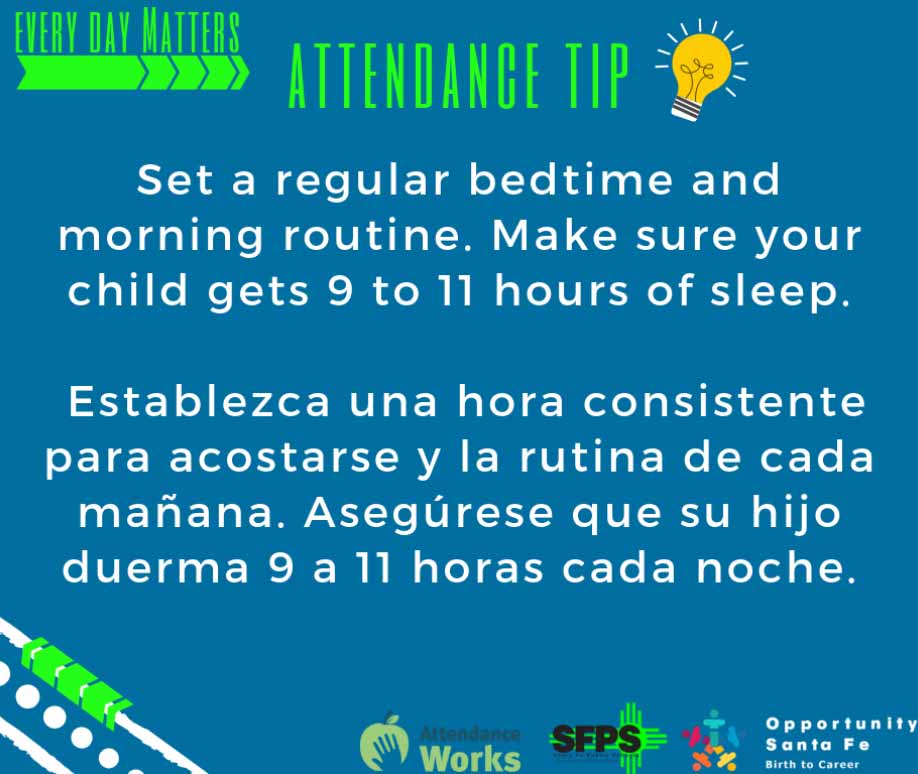 Representatives from community organizations, local government and the school district of Santa Fe, New Mexico, have created a collaborative task force that is spearheading several attendance success initiatives including raising awareness with a Facebook messaging campaign and the distribution of t-shirts and posters reading "Every Day Matters." The task force provides brochures that outline attendance policies in English and Spanish and incentives such as quarterly celebrations for secondary school students with excellent attendance. Finally, the group works to collect and analyze data to improve their attendance efforts. Check out their Facebook campaign here!
---
New York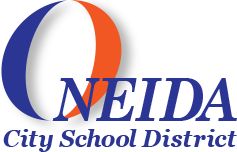 Oneida City School District in Oneida, New York is focusing on reducing the percentage of chronically absent students throughout the school year. Check out their attendance campaign here!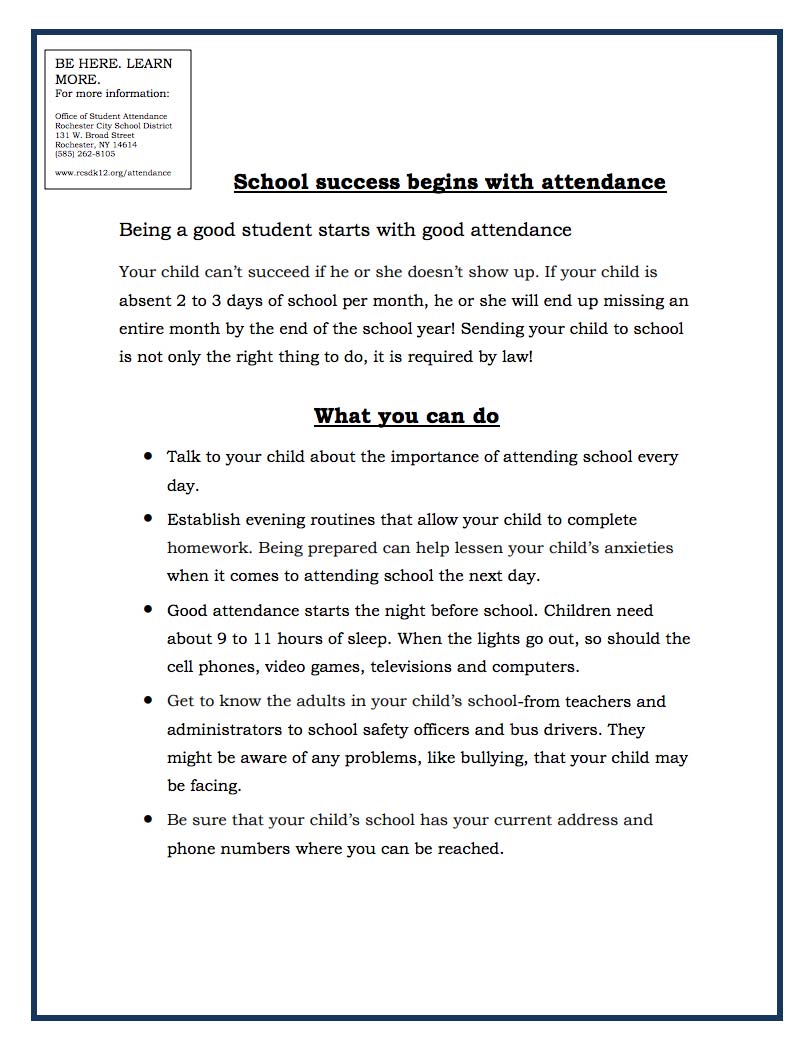 Mary McLeod Bethune School No. 45 is teaching students in Rochester, New York, that "Attendance is Habit Forming. This message will be included on all flyers and letters to families and the community. Educators are providing a variety of incentives for families, including personalized thank you notes, bumper stickers and posters. Over the summer Mary McLeod Bethune staff provided additional care for students who struggled previously with chronic absence by offering support through personalized letters and visiting their families' homes.
---
Pennsylvania
Thanks to the Read by 4th campaign, 148 schools in the Philadelphia area have access to a toolkit chock full of flyers, posters and best practices to improve school attendance. Read by 4th created the toolkit in conjunction with the School District of Philadelphia, caring organizations and education professionals. Check it out here!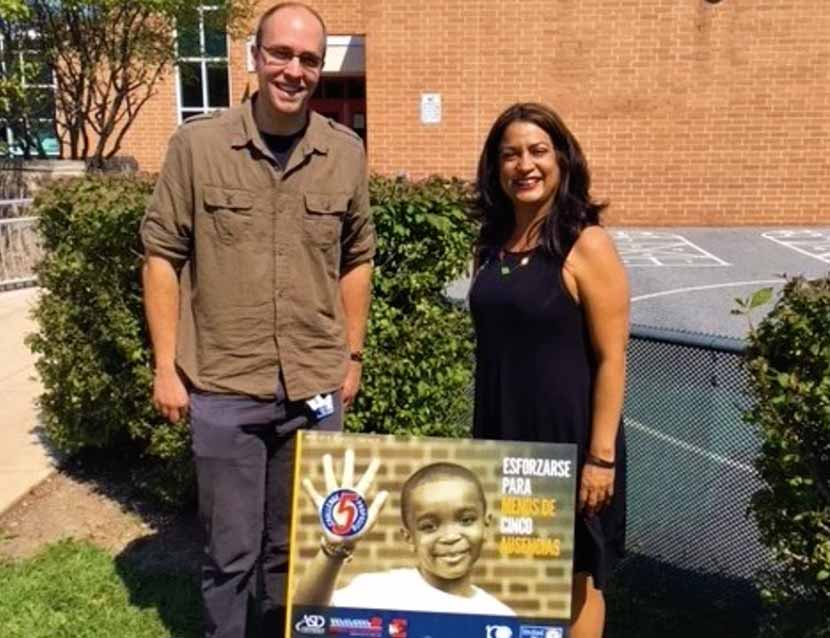 United Way of the Greater Lehigh Valley is fighting chronic absenteeism in Pennsylvania through its Challenge 5 program. Roosevelt Elementary in Allentown, is asking students to sign attendance contracts, providing carpool calling lists to parents, and hosting events like a community walk and block party. Check out their story here! William Penn Elementary in Bethlehem created a "Lunch Bunch" group for students at-risk of absenteeism and is calling homes to help families get the support they needed to get their kids to school. Read more about them here!
---
Washington
Bethel High School in Spanaway, Washington is encouraging students to show up to class through a variety of channels. In September Bethel hosted an attendance video contest, awarding winners with a pizza party and featuring the videos on the school website. Students with perfect and improved attendance can earn certificates, and classes might enjoy a "doughnut drop" from the principal. Bethel High is spreading information about attendance to students through newsletters, posters, attendance facts shared in morning announcements, a community organization presentation during orientation, an attendance badge on the school website, and attendance tweets on the school's Twitter account!
---
West Virginia
During the school week, students and staff at Confidence Elementary School in Putnam County, West Virginia strive for "All Day, Every Day" attendance. At the end of the week, they celebrate reaching this goal by dressing in fun, unusual outfits. On any given Friday, one could see students showing up to class in superhero spandex, cowboy and cowgirl hats, pajamas, or full camouflage.
---