We've collected stories, photos and videos about what schools and communities did for Attendance Awareness Month 2016. Submit your stories and photos to catherine@attendanceworks.org
California
Students in Riverside Unified School District found help from a surprising community! The district created a video to share how educators at Monroe Elementary partnered with inmates at the California Institution for Women in Chino to help the kids get to school every day. The inmates refurbished bicycles, which were given to students with improved attendance.
Contra Costa County's Office of Education kicked off Every School Day Counts: Attend today, Achieve for a Lifetime! campaign with an email blast full of posters, ideas for incentives and a customized toolkit for each school. Grade 6-12 students are participating in a poster contest. Winners receive $100 and will see their poster on the side of transit buses around the county.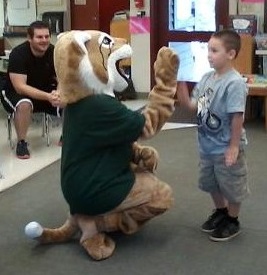 Students in Paradise Unified School District are slapping high-fives with PHS mascot Bobcat during monthly classroom visits. For the second year Bobcat and school staff visit kindergarten and first grade rooms to encourage attendance and promote this year's Count Us In slogan. Students go home with pencils, stickers and wristbands with their graduation year imprinted: 2029.
---
Florida
Pinellas County Schools is collaborating with the Juvenile Welfare Board and other community groups to ensure schools have posters and family outreach materials. Attendance messages on school marquees and banners have been posted all over the county. This year each school will have an attendance icon on its homepage so teachers can communicate with families that report an absence.
---
Georgia
Students danced to the Northeast High School band drum line and tunes spun by local radio station DJ to kick off September at Bibb County Schools. The district urges students to be in school five days a week, and strive to have fewer than five absences for the school year. The action was captured in a video with Martin Luther King, Jr. Elementary Principal Shandra Yarbrough.
Sixth – 8th grade students in Madison County will have a day of fun next spring! Water slides, obstacle courses, karaoke and dance off competitions are a few activities in the MCMS Attendance Extravaganza. Students with satisfactory attendance will dine on hamburgers and hotdogs provided by local businesses in this community-sponsored event.
---
Kentucky
Students at Breckinridge Elementary in Lexington, KY. are celebrating Attendance Awareness Week with daily themes to recognize attendance. High Attendance Day came with a groovy theme: It's Hip to Come to School! A data wall display shows weekly daily attendance averages, and every absent student is encouraged to come to school with an attendance message delivered via phone or email.
---
Maine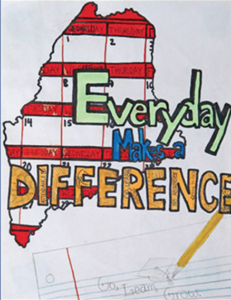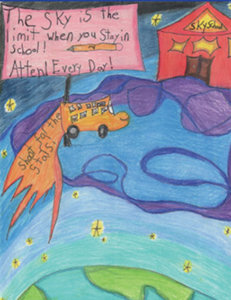 The Maine Count ME In! hosted a student poster contest focused on attendance. The nonprofit group is creating large posters based on the student artwork and disseminating them statewide in multiple languages. Find the winning posters here.
---
Massachusetts
Students in Fall River Public elementary schools started their first day of school on September 7 by walking past community leaders from police and fire departments, city government, hospitals and businesses who each gave them a high five! The project is part of the citywide Attendance Matters initiative.
---
Mississippi
Football players at Meridian High School in MS. Have been volunteering in local elementary schools to greet students and encourage them to attend school every day. Players greet students as they arrive in school, broadcast greetings in the morning, and interact with kids in the classroom.
---
New York
New York State Education Commissioner MaryEllen Elia stepped up to the mound at a Tri-City Valley Cats game to bring attention to the state's Every Student Present campaign. Elia threw her pitch during a Community Heroes celebration, and was later interviewed by a local paper about the state campaign.
---
Texas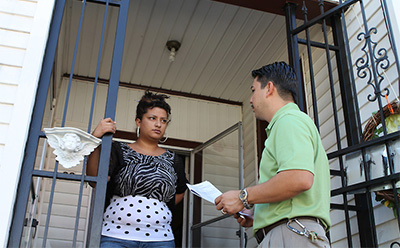 Students in Houston Independent School District participated in a Grads Within Reach Walk, going door to door to encourage students to come back to school and attend every day. Participants ranged from the Mayor to representatives from city, county, and state offices. District and campus personnel, and community-based social service, faith-community, and Veteran organizations joined in the campaign.
Houston Independent School District developed an attendance PSA #SchoolEveryDay video series with state reps, school board members, city council members and more. HISD Board President Manuel Rodriguez, Jr. urges students to remember that attendance matters in school and in life.
The Tyler Independent School District used this public service announcement (PSA) to promote the importance of good attendance during Attendance Awareness Month. High school students at Robert E. Lee who were present every day each month received a treat: off campus lunch.

---
Virginia
Caroline County Public Schools Superintendent George Parker, in this video, calls on community members to commit to supporting students to be in school every day by having high standards at home, being role models and using data to find those students with high chronic absence.
Richmond Public Schools Director of Student Services Angela Jones was featured in a Virginia This Morning interview on WTVR CBS 6 talking about Attendance Awareness Month. Angela discussed how chronic absence can negatively impact a child's academic success, and suggested tips for how to avoid too many absences this school year.