This year a whopping 571 superintendents from school districts across the country joined our Superintendent's Call to Action, committing to emphasize the importance of school attendance this fall and drive with data to reduce chronic absenteeism.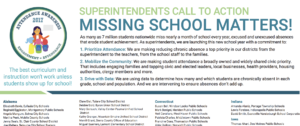 The nationwide Call to Action drew leaders from districts large and small, located in 41 states, the District of Columbia, U.S. Virgin Islands and Commonwealth of Northern Mariana Island. This year superintendents with charter, private and other schools also signed the Call.
"School attendance is essential to academic success, but too often parents, students and sometimes teachers do not realize how quickly absences, excused as well as unexcused, can add up to academic trouble. At the same time principals, division leaders, and community members often do not know if chronic absence is a significant problem in local schools," noted the proclamation signed by Steven R. Staples, Superintendent of Public Instruction for the Virginia Department of Education.
"Attendance improves when districts adopt school board policies to identify and respond to grade level or pupil subgroup patterns of chronic absenteeism or truancy," said State Schools Chief Tom Torlakson, California State Schools Chief.
By joining the Call to Action, superintendents have access to tools, expert advice and peer learning opportunities about improving attendance. Those who join the call by early September are listed in a two-page ad in the September 20 issue of Education Week. Since the ad has been published 12 more superintendents joined the Call. Find the ad here.
The Call to Action for superintendents is sponsored by 10 national organizations that led the Attendance Awareness Month campaign in September: America's Promise Alliance, Attendance Works, The Campaign for Grade-Level Reading, Everyone Graduates Center, Get Schooled, Healthy Schools Campaign, Institute for Educational Leadership, MENTOR, Points of Light and United Way Worldwide.
We are still collecting superintendent's names. Reach out and urge your superintendent to join! Superintendents can sign up on the Attendance Works website.