Upcoming Webinars and Workshops
Tuesday, April 12, 2016: Motivating Good Attendance All Year Long, 11-12:30 pm (PT) / 2-3:30 pm (ET). Register here!
Interested in the latest strategies for leveraging positive messaging to prevent and reduce chronic absence? Join us for our April 12th webinar featuring the new Ad Council campaign from the U.S. Department of Education, California Attorney General Kamala Harris's Positive Parent Messaging toolkit, low-cost, scalable approaches from Harvard Professor Todd Rogers, and tips for teachers from the Parent Teacher Home Visit Project.
Attendance Works will also unveil its 2016 Count Us In toolkit to help communities plan for September Attendance Awareness Month. We invite new communities to launch Attendance Awareness Month in September as a step towards a year-round Attendance Awareness Campaign. Our special guests and toolkit offer many ideas to help you plan your activities in the fall, and to develop tools and messaging to keep up a steady drumbeat about the importance of attendance throughout the course of an entire school year.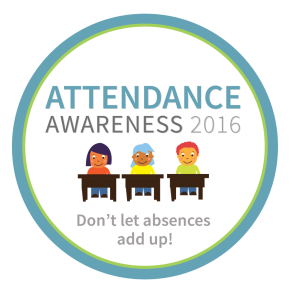 Don't forget to save the following dates for the Attendance Awareness Campaign 2016 webinar series:  April 12, May 17, August 16, September 8, and November 1.