City Year believes that when schools and partners work together, we can not only tackle chronic absenteeism but also ensure that all students — regardless of race, socio-economic status or zip code — have access to relationships with caring adults who inspire them to come to school and receive appropriate academic and social-emotional supports that help them to flourish.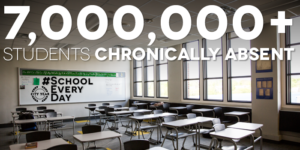 In a blog post, Jim Balfanz, president of City Year, says that improving attendance is just one – though very important – part of holistic efforts to transform schools into places of learning, exploration and risk taking, where every student feels safe and connected to his or her school community. City Year's dedicated AmeriCorps members serve in hundreds of our nation's schools full-time, working in partnership with teachers to identify students who are off-track or at risk for falling off-track and collaborating on solutions to prevent or reduce early warning indicators.
City Year's efforts are having an impact. In 2015, City Year AmeriCorps members helped to drive a 36 percent reduction in students who are chronically absent in middle and high schools they serve across the country. And a Diplomas Now partnership between City Year, Talent Development Secondary at Johns Hopkins University and Communities In Schools demonstrated that the Diplomas Now partnership had a statistically significant impact on reducing chronic absenteeism in the middle grades. This study provided the highest level of evidence that it's possible to reduce chronic absenteeism even in the highest-need schools. It is this transformation of how schools operate that City Year and its partners are working toward, every day. Read the full blog.