When a student misses 10 percent of school days, how do schools and communities make sure that there is personalized early outreach to students and families?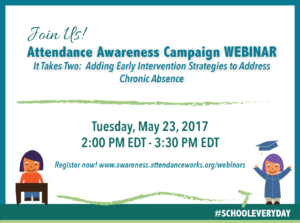 It Takes Two: Adding Early Intervention Strategies to Address Chronic Absence is the second in the AAC2017 webinar series. During this free webinar, on Tuesday, May 23 (11:00 am – 12:30 pm PT / 2:00 pm – 3:30 pm ET), you'll hear what teachers, mentors, school nurses and other caring adults can do to identify and help students improve attendance as soon as they show signs of falling off track.
Prepare questions for our webinar Speakers:
Lysette Lemay, Parent Teacher Home Visits (PTHV)
Donna Mazyck, National Association of School Nurses (NASN)
Terri Helm-Remund, Seattle Public Schools
Linda Amica-Roberts, Miami-Dade County Public Schools, and
Cecelia Leong, Attendance Works
Each community and program featured on the webinar will have strong Tier 1 strategies in place, such as recognizing and rewarding attendance improvements, creating a welcoming school environment and monitoring chronic absence data to identify common barriers.
This September, as we celebrate Attendance Awareness Month, we have the opportunity help all students build the essential skill of showing up on time every day. Don't miss out! Register now
Special Note: We are likely to exceed the webinar room capacity of 500! Please note that once you register you will receive the webinar recording, PowerPoint slides and other materials whether you attend or not. You might consider organizing a separate session to watch with a group using the recording and discussion guide. Guests are welcome to log in 15 minutes prior to the beginning of the webinar on May 23.
Each webinar in this year's series builds on the previous one. If you missed the first webinar, Reducing Chronic Absence: It's a Matter of 1, 2, 3!, click here and scroll down for the archived recording and materials.
Save the dates for the remaining Attendance Awareness Month webinars for 2017: August 8 and September 12.